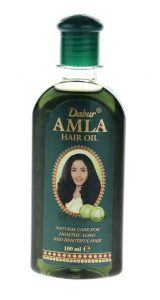 Everyday women are more keen on use Indian cosmetics for hair care. These products are expected to effectively and in more complex way take care of hair due to exotic vegetable extracts they are based on. Dadur Amla hair oil for dark hair, when used on a regular basis strengthens, nourishes and moisturises hair. It is recommended to women with dark hair, because its ingredients can darken light streaks.
Amla is one of more popular oils for hair growth and their strengthening.
Volume: 100 ml/3.4 oz
Dabur Amla Hair Oil – what should you know about this product?
Composition analysis
Dabur Amla is an exotic formula. Base ingredient is Emblica Officinalis Herbal Oil, which is obtained from fruits of Indian gooseberry. This is an oriental component, that derives from lndo-Chinese peninsula. In fact amla extract is the one responsible for strength and faster hair growth as this is one of the most effective ingredients used in Indian natural medicine. Beside it in the composition of Dabur Amla Jair Oil you can find: rapeseed oil, palm oil, almond oil and rosemary oil. Unfortunately, among oil complex found its place also clogging paraffin.
Formula description
Dabur Amla Oil is a product, which formula ignites lots of controversy. It is quite liquid as for product called oil. It has intense dark green colour, which in significantly makes Amla different than other equally popular oils. Luckily, you do not need to worry that green colour will dye hair. Nonetheless, the greatest issue with this product is its smell, which for one can appear exotic and for others just smelly. Dabur Amla in its aroma resembles cleaning products and its scent is so intense that it can even in very significant way make application of this product more difficult.
Method of use
Use of Dabur Amla shouldn't cause greater problems, though its simple applicator does not make it easier. Cosmetic was equipped in a simple cap with a hole through which, sadly, the very rare oil is poured in large amounts. To take small amount of Amla oil is not that easy task. However, when you succeed, just rub it gently in the scalp. Dabur Amla Oil should be left on hair for no longer than a quarter – its action is intense and is better to avoid its intense smell to soak in hair.
Additional information
Price – very low. As for oriental oil with uncommon vegetable extract, cost of this cosmetic is quite affordable. Packaging – inconvenient. Unfortunately, as it was mentioned before, lack of pump or spray makes use of this oil tiresome. Dabur Amla has simple bottle made of plastic with a cap. Manufacturer could come up with something a bit better.
Pros:
low price
incredibly high effectiveness
stimulation of hair growth
oriental vegetable extracts
natural oils complex
Cons:
very unpleasant and intense smell
extremely runny consistency
inconvenient packaging