2# L'Oreal – Magical Power of Essential Oils, Beautifying Elixir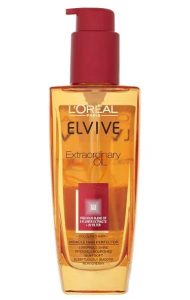 There is one problem with dyed hair. It is immensely difficult to find product, that strengthen their weaken condition and at the same time provides long lasting colour, moisturises and ensures healthy gloss. This is exactly what you can expect after Beautifying Elixir L'Oreal Magical Power of Essential Oils. This product takes care of hair and protects them.
It was developed for dyed hair, so it is expected to prevent the washing out of colour with simultaneous strengthening of hair after colourisation treatment.
Volume: 100 ml/3.4 oz
L'Oreal Magical Power of Essential Oils Beautifying Elixir – what should you know about this product?
Composition analysis
Beautifying Elixir from L'Oreal is a product with properties based on 6 flowery oils with positive impact on hair. Conditioning and colour protection is possible thanks to Chamomilla Recutita Extract, Nelumbium Speciosum Extract, Gardenia Tahtensis Flower Extract, Rosa Canina Flower Extract and Linum Usitatissimum Flower Extract. So, as it turns out there are five active substances and not all of them are oils. To be true, vegetable extracts have equally good properties, but nonetheless it is not the same. Chamomile extract eliminates free radicals; Lotus blossom extract provides regeneration; Tahitian Gardenia extract (monoi) protects, strengthens and makes hair elastic; Wild rose extract has antioxidant properties; Flax extract prevents hair loss and premature ageing of hair. Beautifying Elixir Magical Power of Essential Oils was also enriched with UV filter. Unfortunately, cosmetic consists of silicones, preservatives and alcohol known to be damaging to hair.
Formula description
Hair oil for dyed hair, L'Oreal Magical Power of Essential Oils is a cosmetic with beautifully golden colour. It has typical oily formula, so its application shouldn't cause greater problems. However, such consistency makes this oil quite heavyweight. Depending on hair condition and the amount of used product, L'Oreal Beautifying Elixir can weight down your streaks. For easier application product was equipped in pump, which significantly increases its efficiency. Great advantage of oil from L'Oreal in this line is beautiful and exotic smell.
Method of use
Action of L'Oreal Magical Power of Essential Oils is similar to other oil products, so its use is also no different. Beautifying Elixir can be applied in three ways: on dry hair before hair wash (the most preferable), on damp hair after hair wash or on dry hair after hair wash to make stylisation easier and preserve hair style. However, we need to admit that consistency of the product might be an obstacle here.
Additional information
Price – moderated. You can buy much better products in the same price range. However, it is not over the top cost and it is worth to pay this much for cosmetic rich in natural extracts in the composition. Packaging – solid and convenient. L'Oreal Magical Power of Essential Oils Beautifying Elixir has 100ml/ 3.4 oz volume, which is an advantage in comparison with much smaller products. Plastic bottle is solid, elegant and very convenient in use.
Pros:
dedicated specially for dyed hair
five vegetable extracts in the composition
very pleasing scent
convenient packaging and applicator
large volume
UV filter in the composition
Cons:
can cause weighting down
too thick formula