A moment for hair. Coconut water and its properties.
Hair mania keeps taking different forms. In hair care, we reach for different solutions, and test almost all substances that occur naturally. One of them is coconut water. How does it work on your hair?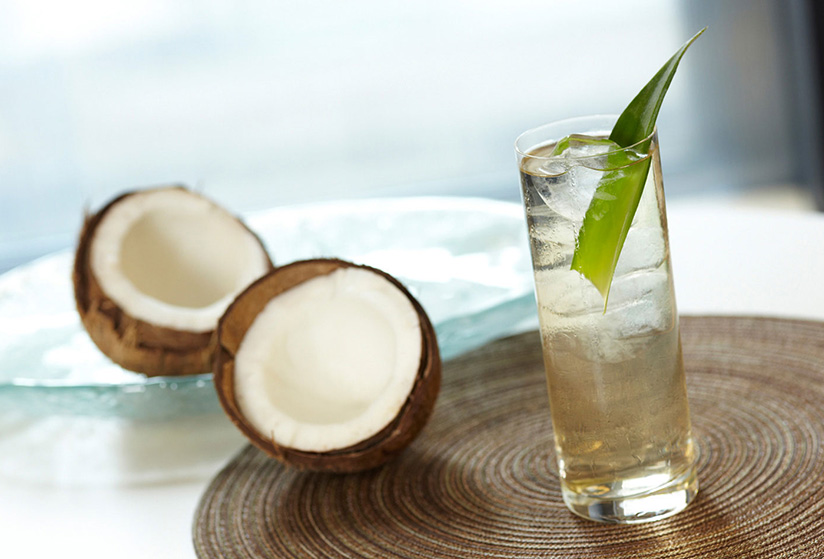 Coconut water is one of the number one hits in a healthy diet. This is a favourite drink of film stars, music artists and sportsmen. It is obtained from young, green and still immature palm fruits. Why coconut water is so good? Palm tree draws rich in minerals water necessary for the growth, out of the soil. During the journey from the roots to the upper parts of the tree, the fluid it is repeatedly filtered and in consequence, it becomes crystal clear. That is why you can drink it straight from the coconut!
Must have in care
Many of the properties of pure coconut water indicate that it is an ally of health and has a positive effect on the body. All because of its extremely rich composition. Coconut water contains many minerals necessary for proper functioning of our body (such as magnesium, potassium, calcium, phosphorus) and a complex of vitamins (B1, B2, B3, B5, B6, and C). Drinking it regularly will have a positive effect on health including helping in the process of weight loss. Coconut water can also be used externally. How?
Natural coconut water is as valuable as the fat extracted from the nut. Just like coconut oil, it can be rubbed into the skin, hair and nails. It has many advantages, which are not yet appreciated – highly moisturising, anti-inflammatory, antibacterial, soothing and nourishing properties. It does not clog pores and can even fight acne. This is a coconut injection of energy to the skin, which can be used even by people with allergies or sensitive complexion.
Nourishes and boosts hair growth
Many hairdressers use coconut water to facilitate styling, because its properties provide the perfect finish for every hairstyle. For many years, it was used by professionals and now also hair maniacs are willingly reaching for it in their hair care. They appreciate that after applying coconut water, hair becomes soft, shiny and glossy. What is also very important, this product does not weigh hair down. Additionally, it is one hundred percent natural and protects hair against UV radiation.
Another very interesting feature of coconut water is that it speeds up hair growth. The skin is deeply nourished. The secret lays in the content of vitamins and trace elements that deeply penetrate the scalp and provide necessary antioxidants. The use of coconut water on the scalp accelerates the growth of hair.