Do you fancy the best hair mask? Nanoil Keratin Hair Mask – reviews and comments
Application of hair mask offers a treatment that from time to time each hair type should be exposed to. Diversity in conditioning treatments works to hair's advantage. Therefore, it's a good idea to take a short break from a natural oil and reach for a keratin hair mask. Not only is keratin an essential building block of the hair but also it positively influences the health of the strands. On the top of that, keratin is known for ensuring measurable hair repair. Let us present you the best keratin-dense hair mask – Nanoil Keratin Hair Mask. Give it a try to see how it will improve the appearance of your hair.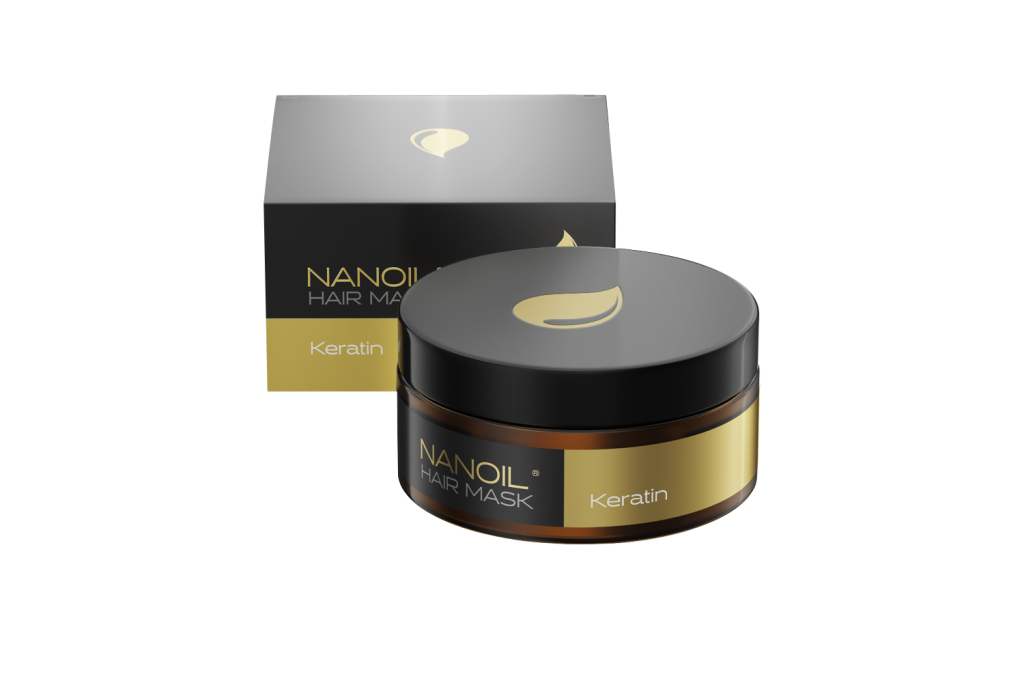 Keratin hair mask. Every hairdresser will tell you that you need one!
Keratin is a substance constituting our hair. When spread over the strands, keratin is capable of filling in and repairing all types of damage. Naturally occurring in the hair, keratin is one of the best substances to improve the health of the strands – it replenishes the hair with nutrients and makes it stronger.
Nanoil keratin hair mask. Ingredients and benefits
Keratin makes the key ingredient of Nanoil hair mask. This is a fibrous structural protein that builds hair, nails and skin. Keratin is also responsible for speeding up and facilitating their self-healing processes. Simply put, keratin leaves the hair healthy and prevents hair damage.
Apart from the keratin, Nanoil hair mask is also formulated with panthenol, aka pro-vitamin of B5. Their ratio is well-balanced to ensure maximally nourished, beautified and fully-regenerated hair. Already after first application you will feel how smooth, soft and pleasant to the touch your hair has become. Over time, keratin will manage to handle and fix the damage caused to the hair surface. Panthenol in turn will make sure that the moisture levels in the hair are sufficiently high and the hair itself is glossy and look flawless.
Nanoil keratin hair mask. Effects on hair
Only one use of Nanoil Keratin Hair Mask leaves your strands lustrous and smooth. Also, you will notice how easy to style they become. When you decide to carry on using this mask on a regular basis, you can expect to achieve the following results:
Stronger hair that is bouncy and resilient.
Lifted hair roots and boosted hair volume.
Upgraded hair resistance to the damage.
Protection from the adverse effects of daily aggressors such as smog, toxins, UV rays.
Solved the problem of split ends.
But most of all, you can expect the hair to be BEAUTIFUL.
Nanoil keratin hair mask. Directions for use
Application of this keratin hair mask is simpler than you probably expect it. Slather it on freshly washed and still damp hair. Towel it dry first. Once the hair mask sits, you can put on a plastic cap and wrap the head with a towel to make the effects even more dramatic. After 20 minutes you can rinse the hair mask thoroughly without the need to wash the hair again. Therefore, you can now move on to your regular hair styling.
Comments on Nanoil Keratin Hair Mask
If you're looking for a keratin-dense hair mask that delivers professional effects but is designed for home use – you're in the right place. Nanoil Keratin Hair Mask receives positive feedback from the users. Many reviews prove that this hair care product is highly effective. Don't wait any longer but just expose your strands to the in-salon treatment – and you don't even need to leave the home! Soon you will forget about all these costly hair treatments.
Need to learn more? Go to the https://nanoil.us to read what top beauty magazines wrote about this keratin hair mask. Get lucky and use the special offers on Nanoil hair care products.