10# ISANA Professional – Oil Care Haarol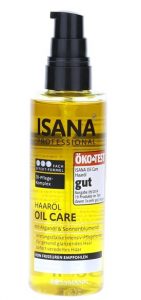 It is difficult to find effective hair oil, that can at the same time have affordable price. Isana Oil Care Haarol doesn't cost too much, but it can provide you with intense hair care, smoother and general improvement of dry, brittle and damaged hair. It is recommended for protection and conditioning of subjected to damages hair ends. The effect of its properties are expected to be healthy, strong and glossy hair.
Isana oil is also supposed to protect them against, e.g. UV radiation.
Volume: 100 ml/3.4 oz
Isana Professional Haarol – what should you know about this product?
Composition analysis
Isana Haarol Oil Care is a product for damaged hair, so it should mostly contain regenerating natural oils. When buying serum, that is promoted as a hairdressers tested you expect more. In reality there are only two oils in the composition: Argania Spinosa Kernel Oil and Helianthus Annuus Seed Oil. First is argan oil, which actually indicates regenerating and rejuvenating properties. Second oil is sunflower seed oil with nourishing and protective properties. However, what difference does it make when there are more silicones than oils in the composition. You should know that Isana Oil Care Haarol is based on alcohol, and it can cause dryness.
Formula description
Oil has amber colour and average thickness. It is true that pump makes it easy to dispense Isana Haarol, but it does not change the fact that this product can weight hair down even in small quantities. Such action is influenced by two matters – thickness (or how greasy is this product) and potential clogging substances. Great advantage of this cosmetic is scent, which however does not stay on hair for long.
Method of use
Application of Isana Oil Care is no surprise. It can be used in three different ways: before hair wash, so it could penetrate inner structures and provide complex action; on washed and still damp hair to protect them, smoother and makes stylisation easier; or on dry hair as a product for stylisation. Although, remember that this product is greasy enough to easily overdo it with its amount. In fact if you want to avoid oily hair by Isana Haarol Oil Care, you should use it before hair wash.
Additional information
Price – one of the lowest. Nonetheless, this investment is relatively worth it, due to fact that its composition is full of silicones. Packaging – convenient. Isana Haarol Oil Care has 100 ml/3.4 oz volume. Its plastic bottle is not of the highest quality, but it fit great in hand.
Pros:
low price
convenient packaging
two essential oils in the composition
easy pump applicator
nice smell
Cons:
silicones and alcohol in the composition
thick consistency
heavyweight and greasy formula