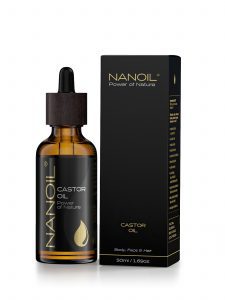 For many long years castor oil has been proclaimed the king of conditioning weak, thinning and dull hair that lost its good state and shine. Also, castor oil is found as one of the finest eyelash and eyebrow conditioners – it helps fix the over plucked hair and takes a good care of skin. Recently, castor oil has been enjoying its revival – it was popularized through blog-sphere and cosmetologists as one of the best oils to cleanse face with.
However, if you would like to clean your face due to OCM, you should reach for an oil of the highest quality, which undoubtedly is offered by Castor Oil by Nanoil.
Capacity: 50 ml
Product page: nanoil.us
NANOIL CASTOR OIL – COMPOSITION
Castor oil by Nanoil won a high place in the ranking because it is entirely natural, cold-pressed, unrefined and 100% organic. It is a pure essence of what is the best in red seeds of Ricinus communis.
It has to be admitted that Nanoil Castor Oil is incredible: around 90% of its composition is made of organic fatty acid that is called ricinoleic acid. It appears that it cannot be found in any oil except castor oil. This oil is also rich in a surprisingly high concentration of minerals and vitamins (mainly vitamins A and E). What is important, castor oil is close in composition to human keratin – this is why it is one of the finest treatments that hair, eyelashes and eyebrows may receive.
NANOIL CASTOR OIL. HOW DOES IT WORK?
Indeed, highest quality oil produces the highest quality outcomes – therefore, once you decide to use Castor Oil by Nanoil, you can be sure that your hair, eyelashes, eyebrows and skin will receive the best treatment. The unique composition of the oil positively affects growth and regeneration of hair that gradually stops falling out, becomes stronger, thicker and wins prettier colour. Also, hair restores healthy shine and vitality.
FORMULA DESCRIPTION
This is the thickest oil of all, and this makes castor oil the most efficient. In short, you need to apply less castor for hair oil treatment than you would have to do it with other oils. Putting on the oil might seem to be troublesome, yet getting used to distributing the oil over hair and scalp takes no more than a few times only. Also, you have to get used to the aroma of castor oil – this natural cosmetic might smell funny for some people (it is free from synthetic fragrances).
METHOD OF USE
This is a thick and incredibly efficient oil that does not run down when applied to fingernail plate. Castor oil regenerates hair, frees scalp from residues of cosmetics and significantly accelerates hair growth. It is a good practice, especially for beginners, to thin the oil by mixing it with other natural oils like argan oil, jojoba oil or macadamia oil.
Castor oil can be applied to scalp and used for wet/dry hair oil treatment. Apart from putting it to hair, castor oil can be also used to condition fingernail plate and cleanse face skin (oil cleansing method). Last but not least, natural castor oil is an indispensable conditioner to boost appearance of brow and lash hair.
ADDITIONAL INFORMATION
Castor Oil by Nanoil is a natural beauty product recognized as one of the best to condition and regenerate hair that is weakened, thinning and reluctant to grow. However, its eyelash and eyebrow boosting properties should not be neglected. Due to its unique composition and characteristic active substances (i.e. ricinoleic acid) this oil serves all hair types, including low porosity hair.
PROS:
is Ecocert-certified (a prestigious certification awarded only to the highest-quality natural products)
one of the most popular hair, eyebrow and eyelash oil that receives positive comments
the highest value for money ratio
100% natural oil, unrefined, cold-pressed and organic
effective and efficient
multitask: perfect for hair, face, fingernails, eyelashes and eyebrows
the best cosmetic oil to be used in hair oil treatment and OCM
contains unique fatty acid (ricinoleic) perfect to regenerate hair
stimulates hair growth, eyebrows, eyelashes and stops hair loss
intensifies colour of dark hair, perfect for color-treated hair
dark-glass bottle protects precious Castor Oil
CONS:
thick, some might find application of castor oil troublesome
available in one size
glass bottle may break
you have to get used to the aroma of pure, natural castor oil