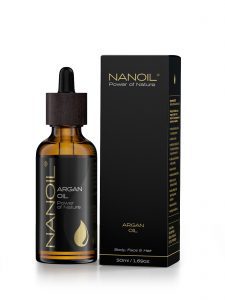 Argan oil is the world's most popular beauty oil. Its prestigious position is owed to the incredible effects it is able to bring out, no matter if applied to hair or skin. When it comes to the extraction of argan oil, it is considered as one of the costliest. To clarify, in order to obtain one liter of the oil, nuts collected from 5-6 Argania Spinosa trees are required. And this is what makes the oil so expensive.
We managed to find argan oil that is the most economic – the best VALUE FOR MONEY ratio – and displays the finest beautifying properties. Argan Oil by Nanoil wins the highest rate.
Volume: 50 ml
Product page: nanoil.us
NANOIL ARGAN OIL – COMPOSITION
essential fatty acids (EFAs), mainly linoleic acid (omega-6 fatty acid) and oleic acid (omega-9 fatty acid); this ratio makes argan oil eminently suitable for all skin types and almost all hair types
phytosterols (plant sterols), they are invaluable conditioning agents, natural constituents of cell membrane, support collagen and elastin synthesis, delay aging processes
flavonoids, strong antioxidants, sweep away free radicals, protect against toxins, positively influence the looks of hair and skin
triglycerides, esters of unsaturated fatty acids, recognized for their beautifying properties due to their ability to protect unstable vitamins and facilitating their penetration through skin
vitamin E (including Beta-tocopherol, Gamma-tocopherol to Delta-tocopherol), not without a reason called 'the vitamin of youth' since it counteracts our body cells aging processes
squalene, an incredibly valuable substance, a constituent of lipid layer of skin, stimulates cell growth, conditions hair, regulates sebum and deals with seborrhea
β-Carotene, antioxidant that boosts skin immunology
butyrospermol, natural sun protection for hair and skin
lutein, shields against harmful UV radiation and maintains tan
polyphenols (natural phenol structural units), strong antioxidants displaying antiseptic, cleansing and skin detoxifying properties; essential in mature skin care, positively influence nail and hair condition
This oil is a natural and potent antioxidant that delays aging processes. It sweeps away free radicals, moisturizes and regenerates, leaves hair and skin soft. Nanoil Argan Oil is an entirely natural product that can be used to beautify hair, body and face. Moreover, argan oil plays in tune with keratin layer of hair. To clarify, the oil creates a protective coat on hair, penetrates the shaft to reach inner hair structures and rebuild it from the inside.
Nanoil Argan Oil is the highest class beauty product. It is made of Ecocert-certified oil. Moreover, Nanoil Argan Oil is free from additions, silicones, fragrances and parabens. In other words, this is pure, 100% organic oil that, when applied regularly, it is able to improve state of hair and skin in an incredible way. Some of its effects include wrinkle and acne reduction. Also, Argan Oil stimulates hair growth, counters hair thinning and leaves strands noticeably conditioned.
FORMULA DESCRIPTION
Nanoil Argan Oil is lightweight, maximally efficient and fast-absorbing. What is important, this oil is not thick which makes it perfectly suitable to be applied to both thin and thick hair. The oil blends well with other cosmetics or semi-finished goods used for creating homemade beauty products.
METHOD OF USE
Argan Oil is one of the finest oils to be used in hair oil treatment. It should be applied like a hair and scalp conditioner and allowed to sit for 30 minutes. The oil can be also left overnight to be removed in the morning (regular shampoo).
Moreover, Argan Oil by Nanoil is also suitable to be used as addition to hair and balm conditioners or as a constituent of oil hair mists. Also, the oil can be used as an alternative to hair serum combating split hair ends and boosting hair appearance in just 15 minutes. Argan Oil can be applied to dry hair right before shampooing and removed after 15 minutes.
It is worth realizing that Nanoil Argan Oil is a multi-taks beauty product that is considered perfectly suitable for body, face and fingernail care. This makes this oil the finest cosmetic that wins first places in rankings and receives favorable reviews.
ADDITIONAL INFORMATION
Vast regions of Argan forests are included in UNESCO biosphere reserves. For that reason, if obtained in the right way, certified argan oil is perceived as a highly valuable cosmetic product as well as one of the most extensively tested natural oil. Furthermore, Argan Oil is one of the richest in precious constituents oil (contains over 100 active substances) that is currently produced. The perfect EFAs ratio makes it a cosmetic ideal. Before choosing argan oil, it is advised to check it for being unrefined, cold-pressed and certified.
Argan Oil by Nanoil offers high quality for affordable price. It is worth realizing that this substance is a decent carrier of vitamins (indispensable in hair and skin care) that remains stable only in oil fraction.
PROS:
high value for money ratio
perfectly suitable for both hair and skin care
reduces wrinkles, slows down skin and hair aging processes
fine face, hair and body serum
Ecocert-certified
slows down hair thinning and accelerates hair growth
efficient, organic, unrefined, cold-pressed
neutralizes free radicals and stimulates cell self-renewal processes
stimulates hair bulbs, makes hair thicker
is good at moisturizing and preventing water loss
makes skin more supple and elastic, leaves hair bouncy
nourishes, strengthens hair, improves hair looks and its structure
easy to apply (precise pipette)
high capacity when compared to other similar products, efficient
bottle made of dark glass protects argan oil
CONS:
glass bottle may break
you have to get used to the aroma of pure, organic argan oil